DIGITAL FUTUREcongress Online
28. - 30. septiembre 2021 | Trade fair and congress for digital enterprises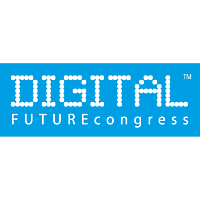 At the DIGITAL FUTUREcongress - formerly IT & Media - show IT vendors of different sizes and with different emphases of today's IT capabilities. Essentially it is about improving business processes through the use of digital media. These companies include software for business processes, system integration and optimization of IT infrastructure such as Cloud. Similarly, the IT & Media is also a platform for IT applications such as document management, knowledge management, translation, and desktop management, e-learning, virtual reality, 3D animation and CAD design. Provider of innovative ICT solutions also provide seamless information access without media and the integration of mobile workers. Are the integrated data protection, IT security and justice for a secure enterprise development. Tenga en cuenta que: debido a los efectos del virus corona, la feria se llevará a cabo solo como un evento en línea.
Sólo 65 días
Fecha:
28.09.2021 - 30.09.2021*
martes - jueves, 3 días
Audiencia:
únicamente para visitantes profesionales
Hora local:
21:43 horas (UTC +02:00)
Advertencia sobre COVID-19
Debido a la corona pandémica (COVID-19), la información sobre ferias y eventos pueda estar incompleta o desactualizada. Puede obtener más información del organizador.
Lugar de la Feria:
Online,
, Online, Internet, Internet, World Wide Web
Hoteles
para la fecha de la feria en Online
Entrada de calendario

Recordatorio por email
< 1000 personas interesadas
Organizador

AMC Media Network GmbH & Co. KG
Robert-Bosch-Str. 7
64293 Darmstadt, Alemania
Tel: +49 (0)6151 9575770
Fax: +49 (0)6151 9575779
Mostrar email
www.amc-media-network.de
Productos: 3D visualization, AIDC/RFIDIT, CAD/CAE software, Cloud Computing, Data Protection, e-learning, embedded systems, Enterprise Applications, ERP software, governance, Green IT, hardware, human resource management, Internet, IT consulting, IT Law, IT Security, Learning, Medical Technology, Mobile Solutions, networks, Open Source, Server Technologies, SIP trunking, social media, Solutions, TK-Technology, training, Unified Communications, video conferencing, Virtualization, Voice Application, …
Sectores: informática, ingeniería informática, IT, ordenadores, …
Ferias en los sectores: Ferias de informáticaFerias de ingeniería informáticaFerias de ordenadoresFerias IT
Renuncia: Todos los datos sin garantía, salvo errores y modificaciones! El organizador del salón correspondiente se reserva el derecho de cambiar fechas o recintos feriales.
Actualizando: 25.09.2020 08:59