afa Augsburgo
(Feria Regional)
Feria del consumidor

Afa - exposición de primavera de Augsburgo - es el foro de negocios líder en la región y uno de los comerciales de los consumidores de más éxito se muestra en el sur de Alemania. En las salas de exposiciones y en la gran zona exterior de productos y servicios a prácticamente todas las esferas de la vida se presentan en la venta, la información y las cabinas de demostración. Por ejemplo, la categoría bauen+wohnen ofrece una visión perfecta para los propietarios y constructores de casas, el fácil Linving Welt muestra muebles, objetos de decoración, menaje, etc, y los productos de cuidado personal Gesundheitspark, equipos de fitness, así como saunas y cabinas de infrarrojos. Por otra parte, hay una presentación de país que cambia cada año y un programa integral.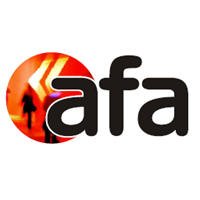 Fecha:
05.04.2014
-
13.04.2014
*
Audiencia:
en público
Frecuencia:
anualmente
Contacto de Feria:
www.afa-messe.de
Lugar de la Feria: *
Messe Augsburg
Am Messezentrum 5


86159

Augsburgo

,

Alemania



Organizador:
AFAG Messen und Ausstellungen GmbH
Messezentrum 1
90471 Núremberg, Alemania
Tel: +49 (0)911 988330
Fax: +49 (0)911 98833500
www.afag.de
Productos:
artículos decorativos, artículos para el hogar, bebidas, bebidas, cabinas de infrarrojos, casas, cocinas, cosméticos, cosméticos, domótica, electrodomésticos, herramientas, herramientas de jardinería, maquinaria, materiales de construcción, muebles, muebles de jardín, productos de artesanía, productos de cuidado personal, puertas, ropa, saunas, servicios de los artesanos, sistemas de calefacción, sistemas de seguridad, sistemas solares, solarium, suelos, toldos, vehículos, ventanas, vinos, ...
Sectores:
alimentarias, construcción, energía, hobby, hogar, jardines, moda, muebles, ocio, ...
Renuncia: *
Todos los datos sin garantía, salvo errores y modificaciones! El organizador del salón correspondiente se reserva el derecho de cambiar fechas o recintos feriales.
Specialist dealer for market stalls, exhibition stands and a ...
Our assortment reaches from folding tents, market screens and folding tunnels over Pagodas, advertising displays,...
Profi-faltzelt.de provides professional equipment for promot ...
Highest quality and durability are our standard in our products. As a specialist for professional roofing and...
Alquiler de máquinas de café, máquinas de café, titular ...
Gain, de vos invités, clients, employés et immédiatement au contact doux moments inoubliables avec plaisir. A...
We plan and organize unique exhibiton stands at home and abr ...
We plan and organize unique exhibiton stands at home and abroad, having gained more than 10 years of event...