For Arch Praga
Feria de construcción

La feria internacional de construcción For Arch será un punto de encuentro para los inversionistas, desarrolladores, fabricantes, proveedores y artesanos. Los tres sub-ferias ofrecen una amplia gama de productos y servicios: En primer lugar para las inversiones inmobiliarias y proyectos de inversión se presentarán, de la madera se centra en los recursos renovables y versátil de la madera. Para Elektro trata de productos relacionados con la iluminación y los sistemas de alarma. Otros puntos destacados incluyen el premio al mejor arquitecto del año, así como la competencia internacional de los aprendices en la industria de la construcción. Fotovoltaica también desempeña un papel importante en la exposición.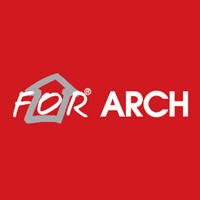 Fecha:
17.09.2013
-
21.09.2013
*
Audiencia:
visitantes profesionales y público general
Frecuencia:
anualmente
Contacto de Feria:
www.forarch.de
Lugar de la Feria: *
PVA Expo
Beranových 667


19900

Praga

,

República Checa



Organizador:
ABF, a.s.
Václavské nám. 29
11121 Praga, República Checa
Tel: +420 (0)222 891135
Fax: +420 (0)222 891191
www.abf.cz
Productos:
accesorios para el hogar, aislamiento, alfombras, aparatos de aire acondicionado, arquitectura, azulejos, balcones, bombas, bombas de calor, calentadores, calentadores, cemento, chimeneas, chimeneas, componentes, construcción, construcción, construcción, diseño de los edificios, edificio, edificios, equipos de construcción, escaleras, fachadas, grifos, grúas, ladrillos, maquinaria de construcción, materiales de construcción, materiales de construcción, mortero, muebles, paredes, pinturas, piscinas, pisos, planificación, plataformas de trabajo, productos de madera, puertas, puertas, revestimientos para el suelo, saunas, servicios de ingeniería, sitio de establecimiento, techos, techos, tejas, terraplenes, tuberías, tuberías de agua, tubos, vallas, ventanas, vidrio, yeso, yeso, ...
Sectores:
ampliación de interiores, arquitectura, construcción, técnicas para la casa, ...
Renuncia: *
Todos los datos sin garantía, salvo errores y modificaciones! El organizador del salón correspondiente se reserva el derecho de cambiar fechas o recintos feriales.
Trade Fair Staff:Service-VIP- and Modelhostesses,multilingua ...
Our Service-, VIP- and Modelhostesses with experience and good references, bilingual and multilingual hostesses and...
our range of service: international full service event agenc ...
KultBuero offers the entire spectrum of Live Communication. An exhibition booth is a visual communication element and...
across europe operating, professionell, attractiv Baristi an ...
Our task is, that your Guests and so our Guests also, gets alltime a perfect Café/Cocktail. wether Espresso,...
Our service comprises leasing as well as sale of turnkey exh ...
You plan to attend a fair, to organise a general meeting or even a complete exhibition in Germany or Europe? Then you...
O.F.F.
60489 Frankfurt am Main, Alemania
Quiere presentar su empresa en ferias? Con nosotros puede de ...
El stand de la feria es la tarjeta de visita de su empresa. En el puede usted mostrar sus productos, convencer al...